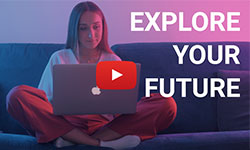 Multi-cultural, multi-campus, multi-school... welcome to our truly international world!
Have a look at our latest corporate video showcasing our group, our schools, our values and our students. Special thanks to all our students, as well as to all the teachers and personnel involved in the making of this video.
SHARING
Builfing our future together, drawing on the strength of collective intelligence and collaborative working.

HUMANITY
Understanding the world and those who live in it, in all their diversity, by nurturing a sense of humility throughout a student's education.

COURAGE
Developing the ability to adapt and the power of persuasion to facilitate employability.

RESPONSABILITY
Encouraging a genuine commitment to sustainable development, with the aim of making the world a better place.

COMMITMENT
Strengthening our ethical responsibility and consolidating our values, with a strong emphasis on citizenship.
Excelia

, explore your future.