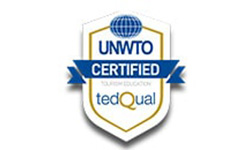 Following the renewal audit which took place in June 2022, Excelia Tourism School still remains the only French school to boast UNWTO.Tedqual certification, awarded by the World Tourism Organization (WTO) and certified by the United Nations. This certification has been renewed for the maximum period of 4 years, with Excelia Tourism School achieving an impressive score, close to perfection (98.46%).

The World Tourism Organization highlighted several major strengths of Excelia Tourism School:
Consistent and close relations with employers, ensuring that study programmes are regularly reviewed and revised, particularly in terms of digital technology, sustainable development issues, technical tools and tourism engineering, eco-design, ecological sustainability and the carbon footprint. The WTO also evoked the development of Soft Skills for dealing with sudden changes in the sector, as well as knowledge of public sector bodies in the tourism industry.
The quality of continuous improvement processes, including data collection, consultation and monitoring, and action plans to improve stakeholder satisfaction, particularly that of learners.
The diversity of learning methods used by teachers as an excellent means of achieving the learning objectives, in particular through the use of practical approaches and the inclusion of real-life cases in the assessments carried out by the Faculty.
The quality of the Faculty and the commitment to ensuring pedagogical excellence: the effectiveness of the various parties that oversee the quality of the programmes, such as the academic departments, the pedagogical innovation committee, the Teaching & Learning Centre (Excelia Lab)

The auditors also highlighted the following key points:
The school's excellent reputation and favourable image in the eyes of students and industry partners.
Ever stronger links with the business and academic networks of the school's Alumni association.
Consistent inclusion of the Global Code of Ethics for Tourism in programme content (a strong emphasis on responsible tourism, sustainable tourism, and universally accessible tourism).
Greater national and international recognition, particularly with the VISA endorsement issued by the Ministry of Higher Education.
Marked internationalisation, with 27% international students of some 30 nationalities and study tracks offered in English.
Excelia's areas of research – 'Sustainable Development and CSR', 'Tourism Management', 'Agility, Innovation and Digitalisation' – the Tourism Management Institute (TMI), as well as an increase in the number of Faculty.
The opportunity of a work-study track via an apprenticeship contract.
Excelia would like to thank all its stakeholders who took part in the audit, as well as all its day-to-day partners who help Excelia Tourism School to educate its students to become responsible and socially committed professionals, aware of the profound changes taking place in this sector.
"The renewal of the UNWTO.Tedqual certification by the World Tourism Organization is a source of great satisfaction to me personally for several reasons. It acknowledges our drive for excellence in which all the school stakeholders are actively involved. Secondly, the criteria for awarding this certification focus on CSR and sustainable development, which are an integral part of Excelia's DNA. Last but not least, it endorses a set of processes that all contribute to achieving one ultimate goal: ensuring secure and sustainable employability for our students."

Pascal Capellari, Director of Excelia Tourism School