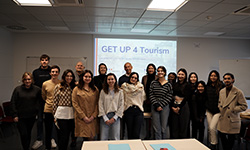 An inter-school challenge which aims to generate new ideas for more responsible and sustainable tourism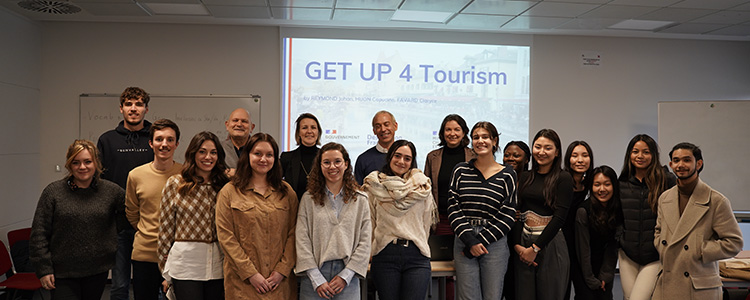 4 schools working together to make a difference
The objective of the Top French Hospitality and Tourism Schools (TFHTS) association is to bring together the excellence and expertise of 4 applied schools, all of which specialise in the Tourism and Hospitality sector: Excelia Tourism School, École Supérieure de Tourisme Troyes-Metz, FERRANDI Paris and INSTITUT PAUL BOCUSE.
The member schools which make up the association all award state-recognised qualifications and are now pooling their skills to enhance the appeal of the Tourism and Hospitality sector, with a common objective of training the future innovative stakeholders who will be committed to the social and environmental transition. The aim is to combine the strengths of each school for the benefit of the tourism and hospitality sector, more specifically, in terms of teaching, research, industry appeal and international development.
Generating new ideas
On Friday 27th January, the TFHTS association launched a new edition of 'Get Up 4 Tourism', an inter-school challenge for a more responsible and sustainable tourism. This original and creative event involved discussions between students from different schools, accompanied by professional coaches including Sébastien Gidon, Recruiter Trainer at Air France and Laurent Queige, Director of the entertainment division at Paris&Co.
Grégory Charles Zetzsche, lecturer at Excelia, ran the event throughout the day.
These coaches also formed part of the assessment panels, with each team having 5 minutes to pitch (without Q&A) during the intra-school final, and 8 minutes to pitch (with Q&A) for the finalist team from each school during the actual final of the inter-school challenge.
Nearly 120 students, with up to 7 teams per school, competed against each other after an intense day of reflection, brainstorming and presentations by industry professionals. For Excelia, we would like to congratulate our international team composed of Carolina SANTOS and Madalina FERREIRA, Portuguese exchange students from our partner university ESHTE - Estoril (Portugal), and Wenying XIE from Feng Chia University, Taichung (Taiwan) who succeeded in reaching the final.
All the teams had to dig deep to come up with tangible and comprehensive proposals, and to imagine how these could be implemented, detailing the resources necessary to do so. Congratulations to the team from FERRANDI Paris who won the Get Up 4 Tourism challenge final and whose members each received an invitation to dine at a gourmet restaurant!
Responding to the Ministry of Tourism
This challenge was all the more important as the proposals submitted by the winning team will be sent to Olivia Grégoire, Minister for Tourism, who was keen to receive suggestions from young students so as to implement the best ideas aimed at boosting the appeal of the sector and attracting new talent. The challenges facing the tourism sector are numerous and complex (digitalisation, CSR, etc.), but we are keeping our fingers crossed that these ideas will stand out as some of the best, so that they can be presented to the Minister in person!
Find out more about the Bachelor in Tourism and Hospitality Management