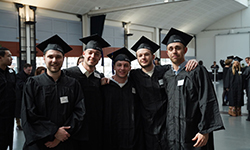 3 graduation ceremonies with 1 common theme…
SHARING

!

On Friday 31st March and Saturday 1st April, Excelia's annual graduation ceremonies took place for the Bachelor, Masters of Science (MSc) and Master in Management programmes. The events were held in hybrid format, with students either attending in person at the Espace Encan in La Rochelle or participating remotely!

A most symbolic and essential rite of passage, a powerful meeting of minds, from which everyone emerges stronger and wiser.

The graduates enjoyed a veritable 'show', which clearly demonstrated to them just how much they contribute to Excelia's strength and success, as well as its constant rise in the most prestigious international rankings!

The ceremony highlighted the importance of the collective awareness and positive energy emanating from the school as a result of the diversity of the students' talents, backgrounds as well as their academic, professional, and association-based experiences.

Relive the ceremonies
on replay
Those graduates who are currently overseas or were not present on the actual day of the ceremony can now enjoy the ceremonies on replay:
Bachelor ceremony
MSc ceremony
MiM ceremony
Excelia Alumni to
support

and

guide

graduates as they enter the

job market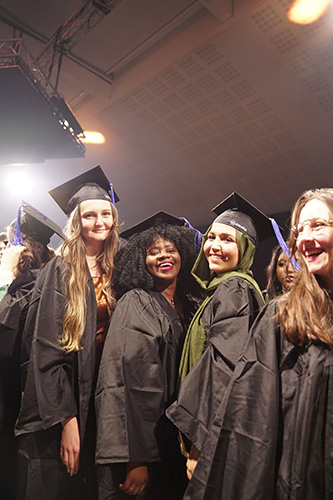 Our newly graduated students are sure to receive all the help they need for a successful transition into the world of work! They will be joining a network of over 42,000 former students located in 150 countries who themselves have been shaped by their time at this leading school... a school that students select with good reason!
The Excelia Alumni Association boasts a team of 50 people working daily to facilitate the employability of our graduates, to foster their professional mobility, and to federate a community around the values of sharing and mutual support between the entrepreneurs, managers and decision-makers of the companies that make up Excelia Alumni.
More about Excelia Alumni
En savoir + sur Excelia Alumni
The Association's mission

To provide a range of tools, services, and professional guidance for each stage of an Excelian's life
To provide advice and coaching for job hunting
To offer assistance and coaching for career reorientation
To facilitate interaction and communication among Excelia graduates
To create and maintain links between working graduates and Excelia students
To plan and organise professional and social events to strengthen such links
To disseminate job and internship offers, often from within the network itself
To raise awareness of Excelia so as to facilitate professional integration and career development
To offer the opportunity to get involved in the development of Excelia
To strengthen the influence and scope of activity of Excelia Alumni on an international level
Choosing Excelia for your studies means becoming part of a close-knit family, supporting you through the major stages of your life.
We would like to wish all our graduates every success and hope that their experience at Excelia will enable them to fulfil their professional and personal aspirations