Heading abroad during your studies opens up a world of possibilities!
In your early twenties? Physically fit? Hungry to learn and to evolve? Then why not do a bit of travelling, going as far and wide as possible! Sleep on the floor if you must! Find out how others live, their customs, their traditions… Wherever you end up, you'll learn something new!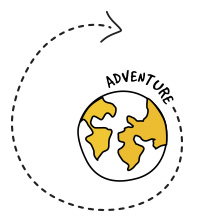 Antoine Bourdain
Enjoy an experience abroad and come back stronger and wiser.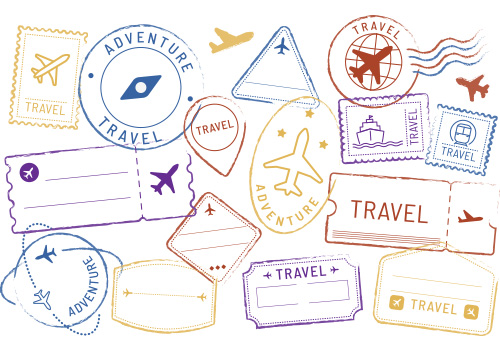 Nowadays, thanks to new technology, we can do so many things… study, make friends, join seminars with people thousands of kilometres away, consume, and even shoot a film in space! (oh yes, even that!).
However, there is one thing that can never be substituted and that is the wisdom that comes with being away from home, on academic expatriation.
Going abroad as part of your higher education programme, either to study or to carry out an internship, is not an easy decision to make, especially when you are young. Excitement often quickly gives way to anxiety. After all, it's not all that bad living with mum and dad... (and actually, parents themselves are generally a little reluctant to let their little ones stray too far from the nest!).
But what an opportunity it is to be able to head off abroad!
Travelling is an experience that will certainly leave its mark! Travelling means discovering others, discovering the world... but more importantly, it means discovering oneself. It means leaving your comfort zone, challenging yourself, and dealing with new situations.
Immersing yourself in a different country and its culture is an adventure! It often involves learning a new language and therefore a new way of communicating, with new customs. It is about immersing yourself in a different culture, it is about opening your mind to understand the habits and traditions of others, and comparing them to your own. It can sometimes be a total culture shock, requiring you to think about who you are, and to consider and respect others and their origins.
Moving away is also about growing up. The unique adventures you have, the people you meet, the difficulties you have to face, the stress of not understanding, of missing your bus or of getting lost... all these episodes seem even more intense because you have to deal with them on your own. However, they enable you to grow, to become more responsible and to gain in maturity. After a long stay abroad, things will never be the same again!
You will also learn to reinvent yourself, to open up to others and to spread your wings.
Total immersion with Florent Garcia
Florent Garcia made the important decision to head abroad! First Dubai, then Thailand, followed by Bali. It all started with his international internship, which took him to Dubai. He was so enthused by this experience that the following year he chose to study at a partner university in Thailand, for his academic expatriation.
And to round off his studies in style, he spent a few weeks in Bali, doing an internship. All this proves that when you finally do decide to head abroad, you often catch the travel bug!
A veritable advocate of international experience, Florent Garcia is delighted to share with us, on video, some of the highlights of his internship:
Study Tracks with an international dimension
Whether to improve your linguistic proficiency, enhance your academic knowledge, develop your skills, consolidate your learning or even have an intercultural adventure, you are bound to come away from an international experience with a stronger sense of purpose.
With this in mind, Excelia has incorporated international experience into its study programmes. Driven by strong human values, Excelia understands the importance of being able to open up to others and of acquiring new skills. Beyond learning a language and developing intercultural skills, experiences abroad enable students to learn to adapt, to become more independent and responsible, as well as more flexible and mobile. It is also a great way to increase resistance to stress and to improve team spirit!
There are a number of different ways to head abroad: international academic expatriation for a semester or even a year in one of Excelia's 200 partner universities; opting for a double qualification; choosing a multi-campus programme.
Heading abroad requires courage! However, don't forget that 'what we learn with pleasure, we never forget'... and that travelling is still the most rewarding and fulfilling way to learn!