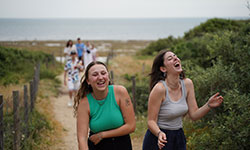 A rewarding cycling trip through Charente- Maritime to discover more about Slow Tourism
On Tuesday 13th June, Charlotte Rotureau, a motivational change manager, set off with students on an unusual adventure to find out more about 'Slow Tourism'. After two months of intensive preparation, the project was finally underway, enabling an entire class to cycle 130 km across the beautiful Charente-Maritime region from La Rochelle to Saintes.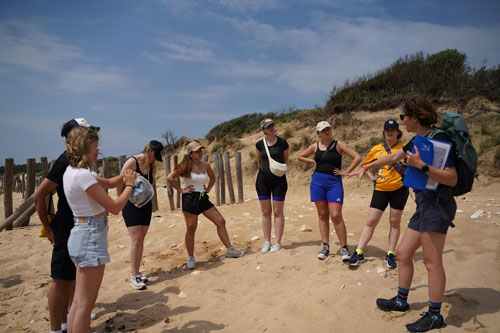 This cycling trip, which took place over four intense days, gave students on Excelia's Bachelor in Tourism and Hospitality Management the opportunity to learn more about each other, but also to discover more about themselves personally and on a professional level. Throughout the trip, they had the opportunity to meet with people actively involved in sustainable tourism, who shared their expertise and passion for environmentally friendly tourism!


Emrick Herbaut, Assistant Manager of the Ile d'Oléron Tourist Office, who shared with the students the challenges and initiatives put in place to promote sustainable tourism on the island.
Perrine, a member of the IODDE association, who explained to the students about coastal erosion on the Ile d'Oléron and conservation initiatives being undertaken by the association.
Alex, Manager of the campsite HUTTOPIA Les Chênes Verts, who recounted his experience in implementing environmentally friendly practices in his establishment.
Christophe, Manager of the Rochefort lagoon plant, who explained how this environmentally friendly wastewater treatment facility works.
Aurore Tourteau, Manager of the Rochefort youth hostel, who spoke about the sustainable initiatives implemented within her establishment to offer travellers an environmentally responsible experience.
Eva-Maria, co-Founder of the Association TERDEV, who spoke about the work carried out by this not-for-profit organisation to promote sustainable development.
Lydie & Serge Bordjah, owners of an organic vegetable garden, who shared their passion for organic farming and healthy eating.
This cycling trip was so much more than just a physical exploit. It was an opportunity for Excelia students to push themselves beyond their limits, to support each other, and to derive pleasure from the endeavour. Every turn of the pedal provided an opportunity for learning and discovery, enabling the students to explore the issues of sustainable tourism, ecotourism and responsible eating.
This second edition of the Learning by pedalling experience was a veritable success! Students Nina Retureau, Fie Willemse, Hideki Tanaka, Xuanhao Zhang, Charlotte Boulegroun, Morgan Rieux-Schwartz, Yaëlle Dupleich, Emma Payelle, Margot Grasset, Lou Narbey, Maela Pasdelou, Camille Drouaud and Yin Zibin, from the Bachelor in Tourism and Hospitality Management, rose to the challenge admirably to cover the 130 km by bike.