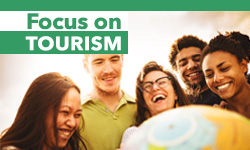 At the mention of the word 'Tourism', many young adults want to spread their wings, driven by a passion for travel and a curiosity about the world that surrounds us.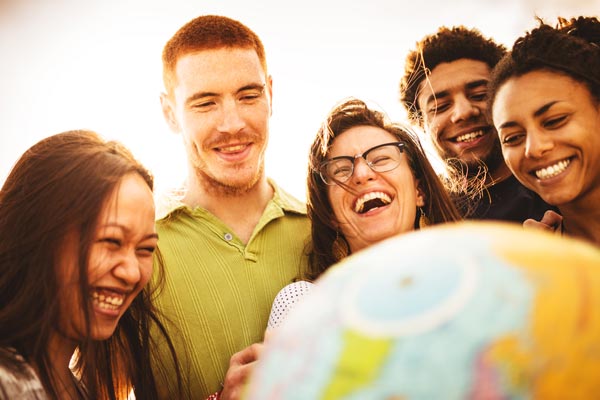 Although the tourism sector was hit hard by the health crisis, it revealed its economic importance and resilience through its ability to re-evaluate its activities, and to be proactive and innovative. A vocation in tourism means access to a vast industry sector with 1,000s of different jobs in tourism and 1000s of careers, many of which you may never have heard of before! A secure market sector that continues to deliver on its promises with job availability, versatility and a wealth of career opportunities.
Tourists are back… and they are keener than ever!
The global health crisis caused by the outbreak of COVID-19 has, among other things, led to a temporary drought of a resource that was thought to be inexhaustible given its steady evolution... 'The Tourist'. The total disappearance of tourists during the crisis has prompted a rethink of what tourism really is. Thomas Deschamps, Director of the Observatory of Sustainable and Accessible Tourism at the Paris Convention and Visitors Bureau.
The 6th edition of the Trend Book devised by Welcome City Lab, an innovation platform for the tourism industry, in partnership with Atout France, highlights the principal emerging trends that will shape the tourism sector of the future, as well as the many associated challenges. A very inspiring document to read, it explores current and future developments: the continued increase in more local and sustainable tourism, the trend towards the use of contactless technology for improved security, teleworking as a new way of working, new business models for cultural events, and the challenge of permanent access to information via dedicated and targeted offers to ensure the best possible experience.
The term 'revenge traveller' has been coined to describe the willingness to spend more, post-pandemic, in order to make up for lost time!
Tourism is alive and kicking! It has evolved and will continue to evolve, so long as it is considered to be an economic, social and natural asset: The balance of these three assets needs to be adjusted to ensure a sustainable and authentic (without greenwashing) approach to development. Thomas Deschamps.
New demands of the tourism market
Making up for lost time does not mean working twice as hard, but rather adding value. COVID-19, coming at a time of existing climate and health concerns, has placed the challenge of more sustainable tourism at the top of the agenda once again.
According to a study conducted by the French Institute of Public Opinion (IFOP) for the industry event Rencontres du tourisme durable (a conference focussing on sustainable tourism), 61% of the French believe that 'protecting nature and the environment' is even more important now than it was before the start of the health crisis. Furthermore, 88% of the French are in favour of introducing quotas or restrictions on visits to certain emblematic sites, a level that has never before been observed (source: Welcome City Lab). Ecological awareness, bicycle touring, using soft mobility to limit one's carbon footprint... recreational tourism is undergoing radical change, as is business tourism which has been redesigned to be more eco-responsible.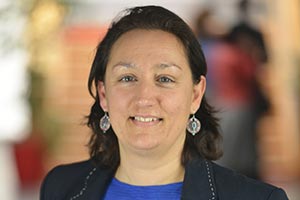 At Excelia, Sustainable Development and CSR have long been an integral part of the School's of tourism programmes, with the creation of a Master of Science in Sustainable Development as early as 1998.
Excelia is also the first school of tourism, and currently the only, French school to have been awarded UNWTO.TedQual certification, which attests to the quality of Excelia Tourism School's programmes, to its commitment to meet the conditions set by the Global Code of Ethics for Tourism, and to aligning itself with the Sustainable Development Goals (SDGs) of the United Nation's 2030 Agenda. Sustainable Development and CSR are interdisciplinary concepts that haven't simply been chosen at random, and are subjects which students are particularly committed to.
I just didn't realise to what extent it could be incorporated into tourism, in all its forms!
Anaël Willay, Year 1 Student, Bachelor in Tourism and Hospitality Management

No matter what our age, we need to be made more aware of these concepts.

Cloé Poitier, Year 1 Student, Bachelor in Tourism and Hospitality Management
With the objective of promoting more responsible tourism, the area of inclusiveness is also very vast, in terms of accessibility for people with disabilities, or specific products for LGBTQ communities, whether they be tourists themselves or working within businesses.
A 3-year Bachelor of Tourism, in line with industry needs
The recent General Assembly of the World Tourism Organization (UNWTO), which brought together tourism representatives from 135 countries, was an opportunity to lay the foundations for a new form of tourism that would restore consumer confidence in their travels, offer more environmentally friendly mobility, establish safety in destinations, and focus on more responsible tourism. The same line of thinking is being pursued through the External Review Committee, a body that brings together professionals from the major tourism sectors to monitor skills requirements in companies.
This makes it possible to link up our French and international networks, and to adapt our programmes to meet expectations.
Result: 66% of Bachelor students find employment within two months of graduation, and 96% within six months.
What type of jobs?
There is a great deal of cross-disciplinary work that allows graduates to move from one sector to another, from one function to another, and whose playground is the entire world.
The Tourism industry: wide choice of sectors and activities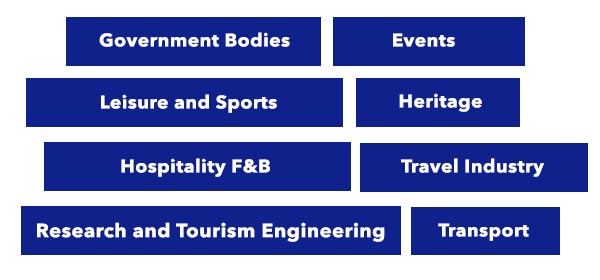 Half of them end up working in hospitality. In addition to the traditional hotel sector, they work with other forms of accommodation that are now being adapted to new uses. Hotel rooms are now becoming workspaces, and lounges are becoming coworking areas!
There are different job positions available: Reservations, Head of Reception, Yield Manager, Accommodation Manager, Seminar Manager, even HR Manager or Financial Director and, after a few years' experience, Operations Manager or Director of an establishment.
The Bachelor programme educates students for highly operational jobs in tourism, in middle management, ranging from Reception to Management.
There is also a whole range of activities in the transport sector (air travel, cruises, coach travel), heritage, events, leisure, sports, and travel industry (Tour Operator, Incoming Agency, Product Designer, Data Analyst, Revenue Manager, etc.). And not forgetting government tourism bodies such as Destination Management Organisations (DMOs), Tourist Information Centres, Regional Tourist Boards, Tourism Development Agencies, etc. Here again, there is a variety of jobs, both in France and abroad, in the fields of Marketing, Destination Marketing, Press Relations, as well as in partnerships with local service providers.
As regards emerging professions in tourism, digital technology will result in the transformation of low value-added professions or jobs, focussing on the customer experience by once again placing importance on the 'welcome' and improving the wellbeing of the teams.
It provides an optimised experience for customers, who have access to reliable data in real time to plan their trip, visits, etc. This allows for greater fluidity in the management of flows and seasonality by offering attractive rates.
We need to encourage our students to be innovative (in terms of product, customer journey, experience, etc.), as they will have to rethink the tourism of tomorrow, making it more sustainable, more accessible, and also reconnecting with the essentials… nature and people.
According to a study carried out in October 2020 by the management consulting firm McKinsey, 55% of customer interaction is now conducted digitally. It's easy to understand how crucial Artificial Intelligence and Data are, and how they go hand in hand with remote working and teleworking. New jobs in tourism are appearing and, above all, new professional profiles… highly qualified individuals capable of running the digital platforms of brands, people who do not necessarily come from the traditional hotel and restaurant sectors, but place communication and customer relations at the heart of their skills.
The manager of tomorrow will have to be well rounded and versatile, capable of dealing with what we consider the 3 main areas: Sustainability, Digital Technology and Experience Design, sums up our Head of the Bachelor in Tourism and Hospitality Management.
One word, one concept… have you heard of Teletravel®? (Source: Trend Book, Welcome City Lab)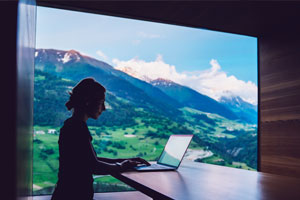 Teletravel® is a journey (hence the use of the word 'travel'), it's about meeting people, learning, total immersion. Teleworking now provides an opportunity to embrace this experience, thanks to the flexibility it offers.
Teletravel® is different from 'Bleisure Travel' (business + leisure); it may or may not be work-related but, thanks to teleworking, an employee can take the opportunity to work elsewhere, and spend time visiting a destination. It is not 'Workation' (working whist on vacation) either, as it is not a holiday for the teletraveller, but more about an opportunity to travel and to have a real immersive experience.
How can the Teletravel® concept be transformed into a tourism product for an increasingly demanding traveller clientele? In the light of current booking trends, tailor-made products and online platforms seem to be what the large majority of customers are looking for.
A qualification with Soft Skills as part of the package!
The Bachelor in Tourism and Hospitality Management is a 3-year programme which is open to students with a High School qualification, as well as those with one or two years of post-High School education, subject to successful admissions tests. It also offers the possibility of validating a double qualification with our partners ESTHUA or ULCO. It not only educates students to become versatile and operational managers, but is also an excellent springboard for those looking to continue their studies on programmes such as the Master in Management or the various Masters of Science (MSc).
Whether choosing a French Track or English Track, students must become proficient in three languages. They are taught by research-active Faculty who integrate their current research work and case studies into lessons. The programme is available in La Rochelle and Tours, both veritable laboratories of tourism experiences, located in regions that are extremely attractive and fit the bill perfectly in terms of a new accessible and sustainable form of tourism. It should not be forgotten that France is the world's No. 1 tourist destination, with 90 million foreign visitors in 2019!
With some 25% of students being international, and many research-active Faculty coming from other international universities, you have the impression you're travelling right from the word go! International experiences include… internships and expatriations, which are an integral part of our study programme, with half of these internships being carried out abroad, a 6-month academic expatriation in Year 2 or Year 3 with a choice of more than 35 countries and 75 partner universities and, of course, Excelia's Climacité© and Humacité© projects.
Soft Skills, flexibility, curiosity, autonomy, empathy, the desire to serve others, commitment… this is 50% of the profile.
Student testimonials: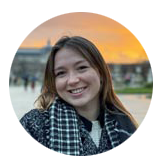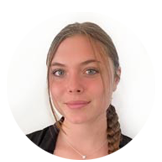 Anaël Willay and Cloé Poitier are both students in Year 1 of the Bachelor in Tourism and Hospitality Management… and class delegates! As ambassadors, they have talked to us about their choice of programme.
What is your educational background?
Anaël : I was a bit lost after finishing High School in 2017. I tried a degree in Modern Languages, but I didn't like it. After a seasonal work placement in a holiday club resort, I decided to return to studying. I was told about Excelia at a Careers Advice Centre.
Cloé : I graduated from High School last year with honours, having specialised in English Literature & Foreign Culture, and Economics & Social Sciences. Excelia was my first choice on the Parcours Sup higher education platform. My career advisor explained things very clearly to me, as did the students at the Open Day. I therefore decided to take the entrance test.
What particularly attracted you?
Anaël : The international and vocational dimensions of the course. For me, sitting and listening to a lecture all day was out of the question. I also really liked the fact that industry professionals are involved in the programme.
Cloé : The students really impressed and inspired me… the prospect of international internships, new discoveries, languages and cultures, etc.
Is the tourism sector for you?
Anaël : I love travelling, and since starting at Excelia in September 2021, I have come to the conclusion that tourism is the right career path for me. Sharing experiences and meeting others has inspired me to want to inspire others to travel!
Cloé : Since I was a child, I have always been interested in travelling. Tourism is as much about events as it is about the hotel business, and you can even combine the two, which may suit me as I am an organised person, a perfectionist, even a little obsessive! This summer, I would like to do my 3-month internship in a hotel in Greece that hosts events.

Tell us about your internships

Anaël : I did my first 4-week internship in December at the Château de Versailles, in the Information & Sales, Cultural Development Department. Customer Relations are the watchwords here. I was lucky enough to spend some time with the Head of Business Development and Marketing for the Château. It's great that our teachers are very attentive and approachable as it's easy to feel a little bit lost in the big world of hotels and tourism; they give us advice on which structures to choose. So, for my 3-month internship this summer, my mentor has really helped me. I have already been able to work with people who have helped me discover jobs that I didn't know about or that I didn't imagine I would be doing, for example working for an Incoming Tour Operator, offering excursions. I didn't know about all the workings and organisation behind the role of a Tourism Product Manager, such as the development of the product, the negotiations that follow, etc.
Cloé : My internship (until 2nd January), was at the Maison des Ambassadeurs, a 5-star hotel in La Rochelle. My role was multi-faceted: reception, customer service, reservations by email and telephone, but also a bit of bar work for hot drinks and soft drinks, room service, cleaning, and also porter service. The hotel was in transition, the reservation software and the customer reception procedure were being changed, and we were being trained for this. It was interesting to work in a 5-star hotel that never stops improving! I enjoyed this experience, and I will have a lot to write about in my initial internship report.
What about Sustainable Development?

Anaël : I just didn't realise to what extent it could be incorporated into tourism, in all its forms! Before, I had quite a narrow view as to what tourism was all about. I have since broadened my horizons, learning with, and from, my classmates, my teachers and students from other disciplines.
Cloé : It is surprising that lessons are so focussed on sustainable development, ecology, slow tourism… but that's a very good thing! No matter what our age, we need to be made more aware of these concepts.
What do you think of Excelia Tourism School?
Anaël : I took out a loan to finance my studies, so I'm banking heavily on the School of tourism… and I'm working 'like crazy' of course! Between the attentiveness and responsiveness of the programme teams, the wealth of learning, and contact with students from all over the world, the Alumni and the Faculty, I'm already 'travelling' and I know I'll come out a winner. It's all there for the taking!
Cloé : I didn't think we would be so closely supervised, but this suits me because I need it. The teachers are very attentive, they are genuinely interested in us and help us a lot. After my 3 years on the Bachelor French Track, I would like to continue my studies with a Master in International Event Marketing and Management, this time on an English Track. I'm motivated because I know that I'm creating a network and building future opportunities.
More informations about Bachelor in Tourism & Hospitality Management