« I've been lucky enough to have had several international experiences, all of which were very enriching. You learn a lot from the local people, and about their customs... you need to have an experience like this at least once in your life! »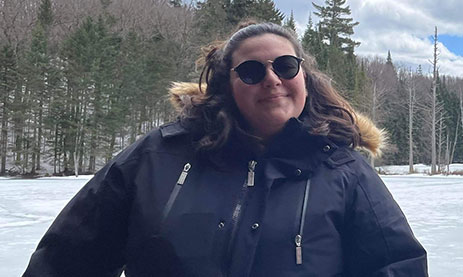 Bachelor in Tourism and Hospitality Management
Cécile Claraz - Graduate - Bachelor in Tourism and Hospitality Management
My name is Cécile, I'm a student in Year 3 of the Bachelor in Tourism and Hospitality Management.
When and where did you go for your academic expatriation?
In January, I went to Montreal in Canada to study at the Université du Quebec à Montréal (UQÀM), for the 2021-2022 winter semester.
Tell us about your experience
The initial part of my experience in Montreal was 'lockdown'! Once the lockdown was lifted, I was finally able to go to UQÀM for lessons. It's a very large university which can be rather daunting, but the support team for expatriates, which is very competent, approachable and friendly, quickly reassured me. As far as the lessons are concerned, I'd say that the most complicated part was setting up 'work groups'. As you don't know anyone, it can be a bit intimidating approaching the other students but everyone was very friendly, you just have to get started. When it came to exploring the country, I had an advantage… I was staying with my older brother who had already been living in Montreal for two years! We walked all around Montreal, hiked in the surrounding towns and, when the maple season arrived, we had lunch in a Canadian institution… a Sugar Shack! What a delicious experience! I also had the chance to spend a weekend in Quebec and Mont Tremblant… unforgettable moments!
What was the highlight of your expatriation?
The entire expatriation experience had a profound effect on me!
What do you think of international experiences in general?
I've been lucky enough to have had several international experiences, all of which were very enriching. You learn a lot from the local people, and about their customs... you need to have an experience like this at least once in your life! Going on an adventure in an unknown environment is not always easy, but it is by living this type of experience that you realise what you are capable of… and you might even be inspired to repeat it!
Why did you choose the Bachelor in Tourism and Hospitality Management?
In fact, it was the possibility of academic expatriation to Montreal that led me to choose the Bachelor in Tourism and Hospitality Management. However, I also chose Excelia for its 'human' dimension, as portrayed by the Humacité© project, as well as for the size of the school.
More about Bachelor in Tourism and Hospitality Management
Why did you choose Excelia Tourism School for your studies?
I chose Excelia Tourism school for several reasons. Primarily, my interest in tourism, but also the opportunity of learning sign language, which is offered at Excelia, as well as the emphasis placed on Clubs and Associations, which is where I enjoyed some of my best moments.
What do you plan to do after the Bachelor in Tourism and Hospitality Management ?
After the Bachelor, I'm thinking of going straight into the world of work. In Canada, where camping is king, I plan to work in a company developing breaks for people with disabilities. And maybe, one day I will open my own campsite!