« The most memorable moment for me was my trip to Lapland. It was a once-in-a-lifetime trip and extraordinary because of the beauty of the landscape, the experiences and the people I met... »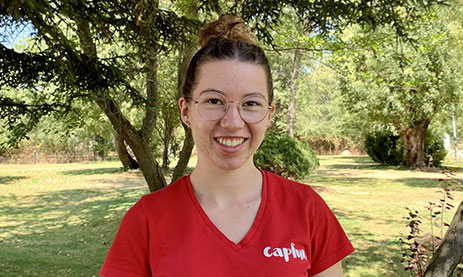 Bachelor in Tourism and Hospitality Management
Capucine Huon - Student - Bachelor in Tourism and Hospitality Management
My name is Capucine Huon and I'm in my second year of the Bachelor in Tourism and Hospitality Management, on the English Track.
When and where did you go on your academic expatriation, and for how long?
I was lucky enough to have the opportunity to go on a 4-month academic expatriation to Finland, to complete the first semester of my second year. I chose Finland because I wanted to learn more about the Nordic way of life and their internationally-renowned education system.
Tell us about your experience there
My experience was rich and varied! Despite the fast pace of study and the heavy workload,
I had the opportunity to discover the country and to visit several regions, notably Helsinki and Lapland. As with any international experience, I also encountered a few difficulties such as dealing with a different culture, a different school with different teaching methods, a different language, a different climate… but this is what makes academic expatriation extremely enriching and exciting! Facing new challenges in an unfamiliar environment is a great way to gain in maturity and develop new skills, notably adaptability and independence. What I gained most from this experience is a multitude of good practices, both on an academic level (independence, efficiency, motivation) and on a personal level (taking time for oneself, appreciating the little things in everyday life, taking a step back)… good practices that I've nurtured since my return.
What was the highlight of your expatriation?
The most memorable moment for me was my trip to Lapland. It was a once-in-a-lifetime trip and extraordinary because of the beauty of the landscape (the northern lights, polar nights), the experiences (dog sledding, Arctic survival) and the people I met (Erasmus Student Network).
Is there any difference between studying in France and studying in Finland?
Finnish education uses methods that are very different from those we know in France. The aim is to interest students and allow them to develop their skills through subjects they are passionate about. Whether working independently or in groups, students are always in control and can choose what they want to work on and how they organise themselves.
What do you think of international experiences in general?
After two years at Excelia, international experiences remain my fondest memories. They enable you to acquire new skills and to define your career path thanks to experiences in the workplace, to expand your network by meeting others, to discover new countries and above all to leave your comfort zone.
Why did you choose Excelia Tourism School for your studies?
Following my baccalaureate in economics and social science, I was looking for a programme that would enable me to broaden my knowledge in these two disciplines, to learn new languages, and to travel and discover the world. Having only a basic knowledge of the tourism industry and not knowing which profession to choose, I decided on Excelia for the comprehensive nature of its training offer in tourism and hospitality and the variety of experiences offered such as internships, academic expatriation, Humacité©, Climacité©, choice of specialisation, etc.
More about Humacité© and Climacité©
What do you plan to do after your current studies?
After the Bachelor in Tourism and Hospitality Management, I would like to specialise, with a Master in Tourism Management and Administration in the Spanish-speaking world. I reached this decision following several internships in Spain during the course of my Bachelor.
What are your career plans?
I would like to work in the hospitality industry or the open-air hospitality sector. I haven't yet decided on a particular profession and I hope to take advantage of the Hospitality specialisation in Year 3, and the operational internship, to fine-tune my choice.
More about Bachelor in Tourism and Hospitality Management