« Experiences abroad are unique and I think everyone should have the opportunity to enjoy at least one such experience during their studies. »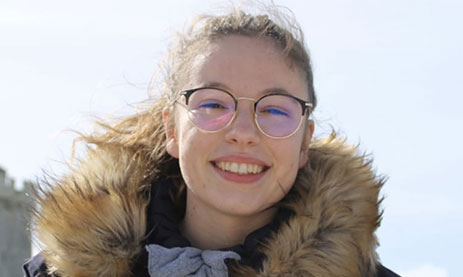 Bachelor in Tourism and Hospitality Management
Charlotte Heurtevent - Student - Bachelor in Tourism and Hospitality Management
My name is Charlotte Heurtevent, I'm in my second year of the Bachelor in Tourism and Hospitality Management at Excelia Tourism School.
When and where did you go for your academic expatriation?
I did a 5-month academic expatriation, from the end of August 2021 to the end of January 2022, at Inholland University of Applied Sciences in Haarlem, the Netherlands.
Tell us about your experience… what you did there, how you felt about it, your main impressions and memories, etc.

I spent one semester studying on a Dutch Bachelor programme, specialising in Event Management. I learnt so much about the Events sector, both the theory and practice. Despite the many constraints imposed by COVID, we managed to organise two events, gaining valuable experience of event organisation. However, because some of the lessons were held remotely, I really missed the social contact. Nevertheless, I only remember the positive things: studying at a very beautiful university, making new friends, meeting very friendly people, living in a wonderful country... with a lot of rain!
What was the highlight of your expatriation?
The highlight was a visit to a television studio in The Hague, which had been specially set up for a 50-hour dance competition! It was a really interesting day, a very rewarding experience for me both personally and professionally.
Is there any difference between studying in France and studying in the Netherlands?
In the Netherlands, there are very few lessons per week, and most of the work is completed on your own, at home. Lessons are not compulsory and more than half are coaching sessions in small groups, offering individual support and advice for the different projects of that particular semester. Although necessary, theory is considered secondary to practical experience. Evaluation is through continuous assessment of the various event projects undertaken.
What do you think of international experiences in general?
Experiences abroad really do speed up the rate at which you learn. You land in a new country with a different culture and a different language, living in an unfamiliar city, where you don't know anyone … you have to adapt quickly and learn to live in that country. Experiences abroad are unique and I think everyone should have the opportunity to enjoy at least one such experience during their studies.
Why did you choose Excelia Tourism School for your studies?
I chose Excelia Tourism School because of the experiences abroad that the school offers. I wanted to study tourism whilst having the opportunity of gaining valuable professional experience, first in France and then abroad, as well as having the possibility of spending a few months studying in another country.
What do you plan to do after your current studies?
Tourism is still something I very much enjoy, so I'd like to do a specialised Master in Tourism. I'm looking at all Master programmes, in France and abroad, with a view to living a new international experience.
What are your career plans?
I don't really have a definite career plan at the moment. Next year, I'm going to join the work-study track… I'll be working as a Communications Assistant for a Tourist Office. I would like to work in either Marketing Communications for Tourism or in Event Management.
More about Bachelor in Tourism and Hospitality Management