« The most memorable part of this first year was having the opportunity to work on a class project with the teams at Yves Rocher, a French skin care, cosmetics and perfume company. »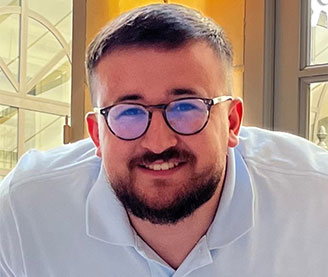 Master of Science (MSc) in Destination and Tourism projects
Erwan Launay - Student - MSc Destination Management
My name is Erwan and I'm 24 years old. I'm currently in my first year of a Master of Science in Destination Management. Before that, I did a qualification in Applied Foreign Languages – English and Spanish. I've always wanted to work in the field of tourism and more specifically in the open-air hospitality sector.
Why did you choose this particular study programme and this school?
I chose Excelia Tourism School because of its outstanding reputation and the fact that I would be working alongside and learning from experienced industry professionals. Also, the campus in La Rochelle has great facilities… we benefit from the best possible environment to study in.
What has been the highlight for you so far?
The most memorable part of this first year was having the opportunity to work on a class project with the teams at Yves Rocher, a French skin care, cosmetics and perfume company.
Has the programme met your expectations?
So far, the programme has met my expectations, in particular due to the diversity of lessons and the high calibre of lecturers. Another positive aspect is the practical dimension... the opportunity of working with the company Yves Rocher. We were involved in a project to develop their 'savoir-faire tourism' offer. It was a hands-on experience which will undoubtedly prove useful in our future careers. Last but not least, it's great being taught by Jérôme Piriou, an amazing teacher who delivers enjoyable and inspiring lessons!
After your MSc, what are your plans?
My first project is to travel the world, to get to know the different parts of our beautiful planet! Then I would like to get involved in the organisation of the Olympic Games in Paris 2024... I really want to be a part of this important world sporting event!
Outside the classroom, what are your interests?
I'm a big football and movie fan! I like rapping and spending time with my friends.
What advice would you give to a future MSc student?
It's important to learn how to manage your free time and to really make the most of your years in higher education… they are very rewarding but go by very quickly!
How would you sum up your time at Excelia in 1 word (or 2 or 3.... 😉)
AMAZING!